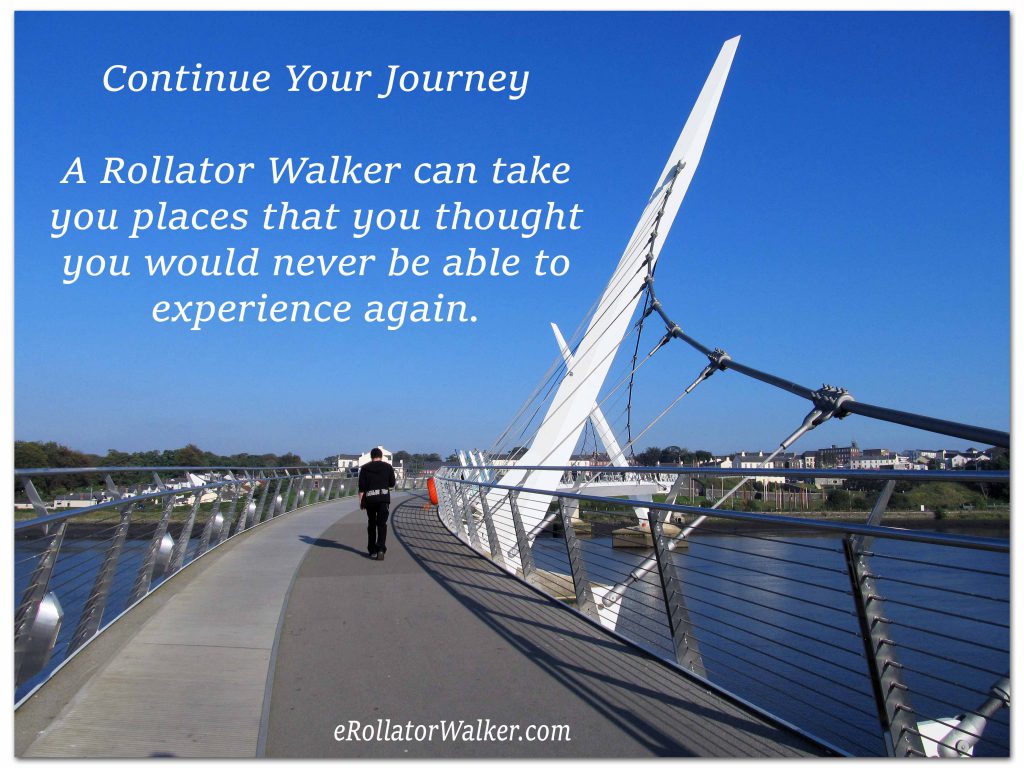 There are many things to consider when choosing a walker or rollator. The style of walker or rollator to choose depends on your needs.
A walker will help keep you stable and secure when walking. They help to prevent falls and get you up and out of your chair. A rollator walker can take you places that you thought you would never be able to experience again.
There are many different styles of walkers. They are designed for specific health conditions, a person's size (body weight) and where you plan to use them (indoors or outdoors). Each style has its advantages, below is a list of basic styles and usage.
Discuss with your doctor or therapist which style of walker rollator would work best for your needs and how to use one.




There are several styles of walkers that you can choose. A few styles are the standard walker with no wheels or two wheels, a rollator walker with three or four wheels, a transport chair rollator.
Below are a few examples of styles that are available to get you started.
---
Walkers for Support and Stability
Standard Walker with No Wheels (Support & Stability)
This type of walker was very common years ago before more styles were designed. The standard walker with no wheels works well if you are only using it to transfer. Getting out of a chair and transferring to a wheelchair or transferring to a bed.
If you are looking for support and stability this walker is a good choice. It is the most stable allowing you to place some of your weight on your arms and less on your legs. It needs to be picked up and moved with each step. To see more walker reviews click here.
ADVANTAGES:
 Good for walking short distances.
Easy to transfer in and out of a chair, wheelchair or bed.
Offers support and stability.
The folding models take up a small space.
DISADVANTAGES:
Not good for walking long distances.
The disadvantage of using this type of walker is that every time you pick it up, you no longer have its support and you can become unstable.
Today there are many other choices available that work better.
---
Standard Walker with Two Front Wheels
This type of walker gives you a lot of support and makes a more natural walking gait. The walker slides along on the front wheels and the back legs help to slow you down.
Some models fold and can fit in a suitcase.
ADVANTAGES:
Smaller Size and Takes up Less Space Indoors
Offers Good Stability and Support
Folds Easily for Travel and Storage
Optional Tray can be Attached to the Front
DISADVANTAGES:
Does Not Work Well Outdoors
Not good to use for a lot of outdoor walking because the wheels are small and you only have two wheels.  (A four-wheeled walker has larger wheels making it a better choice to walk outside over rough surfaces).
The back legs of this style of walker tend to squeak and not move smoothly over the floor. You can modify the back legs with no wheels by using tennis balls, or felt furniture glides. The tennis balls seem to wear out faster than the furniture pads. To see customer reviews click here.
---
Rollator Walker with 4 Wheels, Seat, and Braking System
This type of rollator walker is a good choice if you are independent and just need a little stability and more endurance when walking. They are easy to push like pushing a shopping cart. They fold and can easily fit in a large car trunk.
Note: Some models are made to fold smaller for compact cars or travel. Read customer reviews here.
ADVANTAGES:
 Comes with a Seat
Ability to Carry Objects on the Seat such as a Laundry Basket
Good for Walking Outdoors
Optional Basket Available for an Oxygen Tank
DISADVANTAGES:
Hand Brakes Hard to Work with Weak Hands
Move Easily if Not Locked
Larger and Takes up More Space
Some do not Fold Easily
---
Rollator Walker Wheelchair  Combination
This style rollator is my favorite. It is not only a walker it converts to a wheelchair. This is a very useful feature for anyone who cannot walk long distances. The backrest can flip so you can sit facing forward when being pushed.
ADVANTAGES:
Easy to Fold – 1 Finger Fold
Clip Attached that Keeps it Fold
Can be Lifted with One Hand
Front-Facing Seat
Foot Rests – Easy to Adjust Length
Have Mini Armrests to Use Getting In and Out of the Chair
Easy to Adjust Breaks
Foot Rests Fold Tightly on Side of the Chair
Ultra-Comfortable Handles
Fits Multiple Heights and Sizes of People
Has a Back Wheel Step Bar to Raise Front Legs
Comes with a Padded Seat
Removable Bag
---
Video: Rollator Walker Wheelchair Combination Review
---
There are many choices available for walkers and rollators. A good place to start is with your doctor or physical therapist by asking which type would work best for you. Ask for a prescription so that you can get a full or partial reimbursement through Medicare or your health insurance. Note: each insurance has a different policy for medical equipment so call your insurance company to get the details.
Visit a local medical supply store and try a few styles out before purchasing. Online stores may offer better pricing than retail stores.
---