The only thing missing in the above photo is a walker – rollator accessories bag.
Walkers and Rollators make a huge difference for people by improving their walking and keeping them safe from falling. It is a tool many people use every day to stay active with family and friends. It enables them to continue enjoying walks outside and feeling safe when at home.  
When my sister first used her walker rollator, we saw her transform from a shaky walking unsure person to walking with an upright confident let's go attitude. Now she walks without fear of falling and has traveled to many places that she avoided in the past.
One of the things that she needed was a bag for carrying her accessories.
To help find the best bag for you, start by making a list of all the things that you want to carry. Below is a list of essentials that most people like to carry with them.
 Essentials to Carry Checklist
Cell Phone
Deck of Cards
Remote Control
Tissues
Book or Magazine
Glasses
Water Bottle
Pen & Paper
Spare Change
Name & Address
Emergency Contact Info
Magnifying Glass
Medications
iPad or Tablet
What's Your Style?
Select a bag that fits your needs or several for different occasions. Accessory tote bags come in all styles, shapes and, sizes. You may decide to use one bag for things you use around your home and another bag for outings. Some bags have a carry strap so the become a handbag or satchel to carry over your shoulder.
---
Beautiful and Functional Rollator-Walker Bags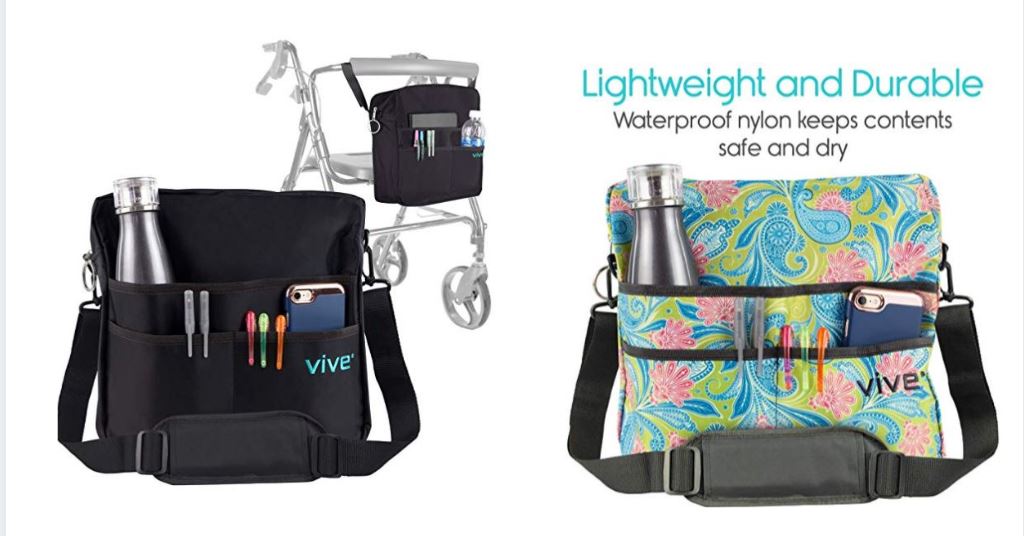 "A place for everything, everything in its place".

Benjamin Franklin
This walker – Rollator accessory bag is beautifully designed for function.   The front pockets will hold a water bottle, cell phone, remote control, pencils, notebooks, etc.
The roomy inside has two pockets making it a great organizer for your reading material, tablet, medicine or a snack.
Things that you will use all day long will be within arm's reach.
The bag has a comfortable caring strap with a padded shoulder pad. It is easy to attach and remove to sling over your shoulder and take it with you. The bag can also be detached and sit on your nightstand or end table. 
It comes in a basic black or a festive floral design. Great patterns to fit your lifestyle and personality.
Details:
15" x 12" with a 4.25" handle drop.
Attaches with a hook and loop Velcro system.
Several fabric styles are available.
---
Under the Seat Rollator Accessories Bag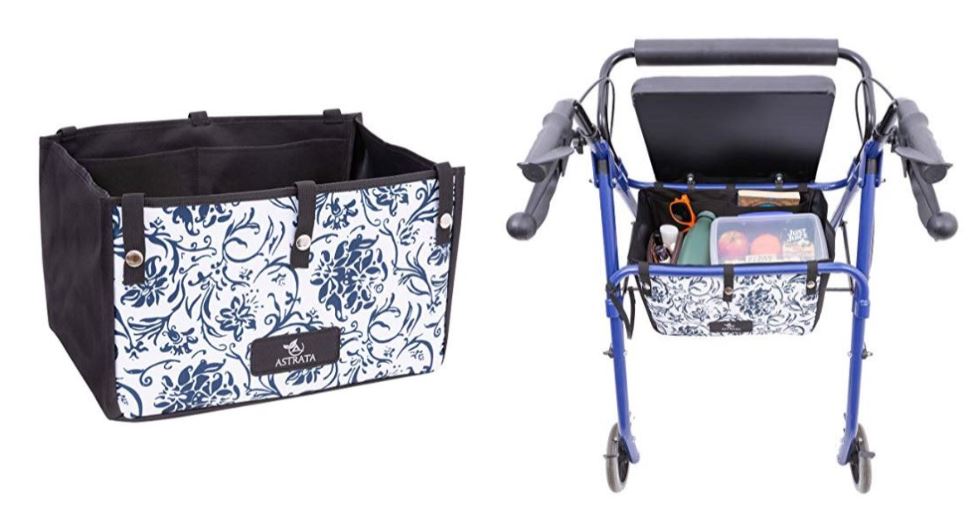 This type of bag is unique because it attaches under the seat of your rollator. It folds with the walker so it is easy to get in and out of a car. Note: The bag needs to be empty to fold.
This is especially good if you have a number of items that you need to carry with you.
Details:
Most of the people who left Amazon reviews say it fits their walkers.
---
Finding the Perfect Size for Your Needs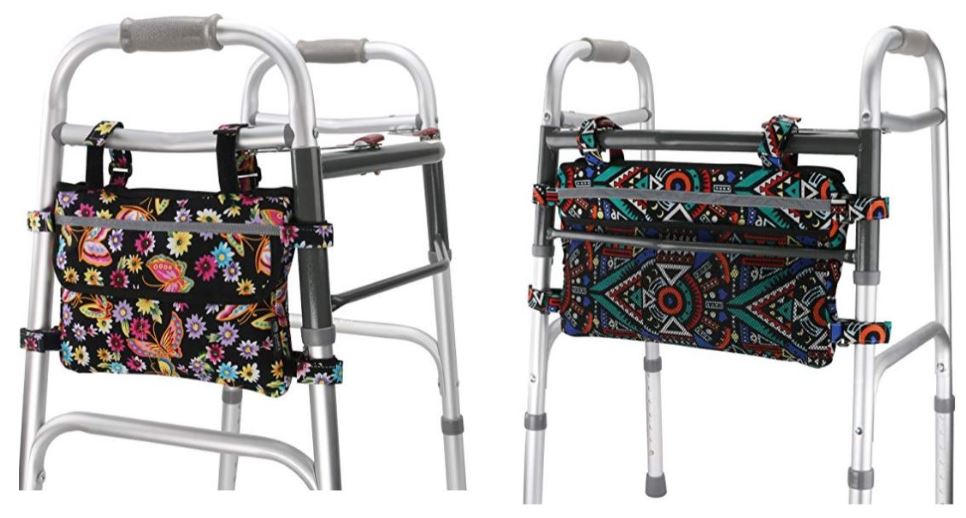 What size are you looking for? The GUOER Walker Bag comes in two sizes 7.8 W x 9.8 L inches or 9.8W x 15.7 L inches. You can choose from 10 different fabric styles, so it is worth taking a look if you are looking for something unique.
---
Universal Bags Fit Wheelchairs & Rollator Walkers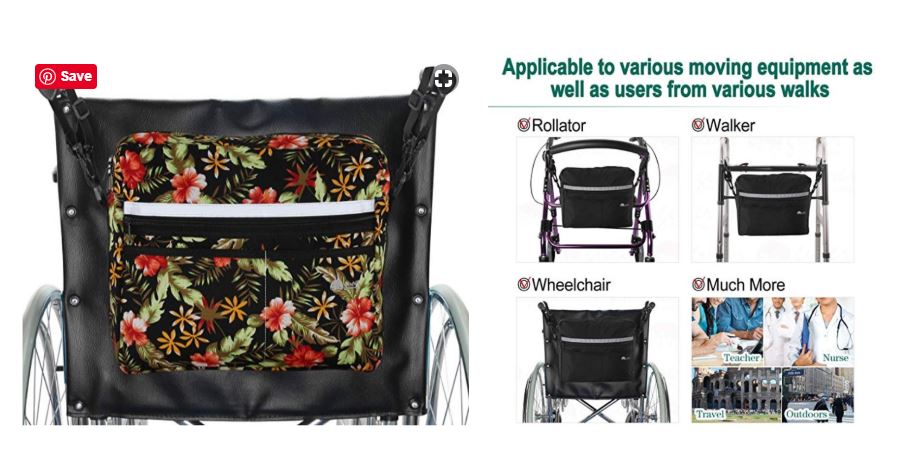 Step into any room with style. Just because you use a walker or wheelchair does not mean that you have to compromise on style or your individuality. The NOVA Universal Tote Bag is multi-functional and will fit a folding walker, rollator, wheelchair or scooter. With a total of 8 pockets, there is plenty of room to stay organized. You can even purchase matching seat/back covers to make your rollator unique.
Details:
Has 2 removable and adjustable mesh belts and 1 shoulder strap
Reflective Stripe on the front of bag raises visibility at night
3 inside pockets and 5 outside pockets
Can be used with wheelchairs, walkers, rollators or carrying bag
12.6″ L x 11″ H x 4.35D
---
Beautiful Designer Rollator Walker Bags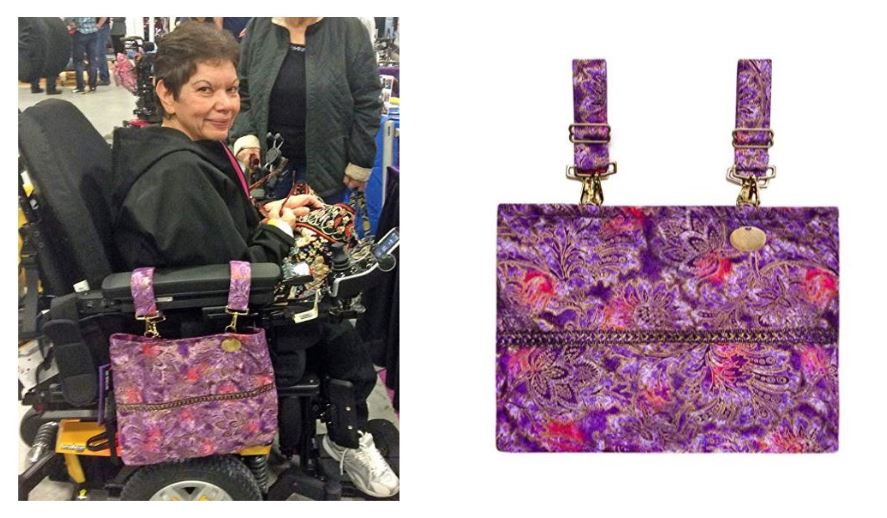 This bag is stunning and beautiful. It is designed for women of all ages young and old. It is made from a cotton fabric with a gold braid. You will love taking it with you wherever you go.
Details:
13" x 10"
Adjustable, detachable straps that fit most mobility devices
Handle drop 4.25" – 6.5"
Back Pocket
Inside has 2 pockets and lined with purple fabric.
This bag costs a little more than the other bags above but looks stunning and is quality made. If your favorite color is purple – this bag is perfect for you
---
Tips for Finding the Perfect Bag for You
Make a list of what you want to carry
Determine the size of the bag that you need
Do you want a multifunction bag – rollator – wheelchair – carry
What color, fabric or design do you like?
How many pockets would you prefer?
Check our Rollator Walker Accessories Bags recommendations on Amazon
Here is my list of favorite Rollator-Walker Accessories Bags that I found on Amazon.